Save Ukraine #StopWar
Global Charity TV Marathon for Support of Ukraine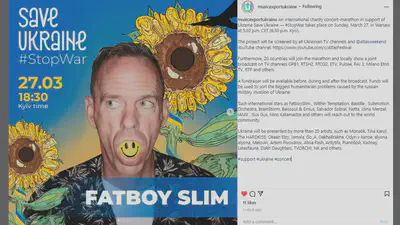 An international charity concert-marathon in support of Ukraine Save Ukraine - #StopWar takes place on Sunday, March 27, in Warsaw at 5:30 p.m. CET (6:30 p.m. Kyiv).
The project will be screened by all Ukrainian TV channels and the atlasweekend YouTube channel.
Furthermore, 20 countries will join the marathon and locally show a joint broadcast on TV channels GPB1, RTSH2, RTCG2, ETV, Pulse4, RAI 3, Milano Etno TV, RTP and others.
A fundraiser will be available before, during and after the broadcast. Funds will be used to sort the biggest humanitarian problems caused by the russian military invasion of Ukraine.
Such international stars as FatboySlim, Within Temptation, Bastille, Submotion Orchestra, BrainStorm, Beissoul & Einius, Salvador Sobral, Netta, Idina Menzel, IAMX, Gus Gus, Nino Katamadze and others will reach out to the world community.
Ukraine will be presented by more than 20 artists, such as Monatik, Tina Karol, The HARDKISS, Okean Elzy, Jamala, Go_A, DakhaBrakha, Odyn v kanoe, alyona alyona, Melovin, Artem Pivovarov, Alina Pash, Antytila, Piano??????, Kadnay, Latexfauna, Dakh Daughters, TVORCHI, NK and others.
Please follow our Music Export Ukraine colleauges on Instagram and on Facebook.
Links