'Being able to spread your music is one of the greatest things about being a musician'
Listen Local Interview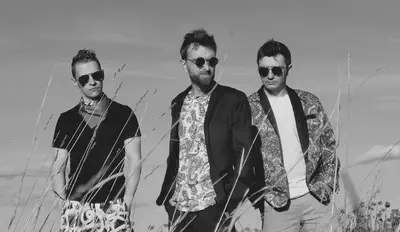 What is the band setup and how did you come up with this name?
My name is Todor Kovachev and I'm the singer and a keyboardist of Innerglow. We are a trio, also consisting of a guitarist and a drummer. All of us play various instruments and do arrangements and songs, so we're multi-functional. We play original music, which might be obvious to many, but in Bulgaria, there are still a lot of cover bands.
It wasn't easy to pick a band name. We wanted the name to be short and it turned out that Innerglow was available, so we decided that it doesn't only fit our music but it also can inspire us in the future. The name includes a lot, while being short. I think now we like it even more than we did in the beginning, we find more meaning in it.
Listen Local Bulgaria

Musicautor and the Open Music Europe consortium starts a new service called Listen Local Bulgaria. We want to make sure that Bulgarian music will more easily find audience on global platforms, festivals, and create higher revenues for its creators.
And who are your band members?
Peter Zhelev is our guitar player and Matey Hristoskov is our drummer. First, we also had a bassist, but we had to remain a trio. Since then, we use backing tracks for our bass and the three of us play live. It was a necessary solution, although we do miss having a live bass. However, having three people has a lot of advantages. Sometimes it's easier and faster to work with fewer people, and the three of us now are 100% involved and passionate about this band, which is more important than having more members.
I've noticed that you mostly sing in English, is that a conscious choice for your lyrics?
Yes, all of our songs are in English except for the latest one, which we released 1-2 months ago. It's in Bulgarian, which is a bit of a shock and definitely a huge step for us. The rest of our music is in English, as it always felt natural for our style and for me as a singer, to sing and write in English. It was much more challenging to write a song in our own language, even though it's a bit of a paradox.
We always tried to reach foreign audiences as well as Bulgarian. We weren't sure how it would sound in Bulgarian, but I think we did a good job because people were surprised by the appearance of the second language in our music. Some even said that it sounds better in Bulgarian, which I personally don't believe. I'm still very used to singing in English and I'm a better singer in English. But we might do more Bulgarian songs! We even like to joke that we may include a third language in the long run, who knows? The guitarist knows French, I know a little bit of Spanish… Everything is possible and we're trying to keep an open mind.
Where did you start your band?
We're in Sofia, Bulgaria's capital. We all have experience with different kinds of bands in the Bulgarian scene, mostly rock and classic rock bands. I think that's exactly what united us – we were a bit tired of this classic rock vibe. We wanted to make something different and experiment with electronic music, with things that could let us get away from the classic rock sound. We have since developed our own approach and sound, we listen to a lot of electronic music and loads of different styles are incorporated into what we now call Innerglow. I think people appreciate hearing something else, a mix of influences.
And when did you start as a band?
In 2016. 2017 was the year when we released our first song. It gradually evolved from there. We started playing concerts and performing at festivals in Bulgaria, and by now we've already played in the biggest venues here. Of course, the scene is not big, so reaching these venues is not a huge achievement, but we've improved a lot since our modest beginnings. We're still very productive, we do a lot of songs. I think this is the most important thing because loads of bands in Bulgaria have problems with productivity and releasing new material frequently enough. This is difficult because of having to combine music with a day-job. It's a huge problem when you're a band that wants to make a name for yourself if you don't release music often enough.
Where do you think your fans are from, mostly?
Looking at the Spotify statistics, most of your listeners are from Bulgaria and most others are from big countries such as the UK or Germany. But we also receive great feedback from Morocco, from Indonesia. That's when you realise that your music reaches people and destinations that you can never be aware of, and that's the point, of course, to reach people who actually connect to what you do. Being able to spread your music is one of the greatest things about being a musician.
Are you actively trying to find new audiences?
We are, but we're not very good at this. None of us is a natural at social media, posting pictures and all that. We're better at creating the music and letting it speak for itself, but we all know that's not enough nowadays. That's why we're actively working on posting more.
Would you say that you're part of a musical scene?
There is a lot of new music and bands in Bulgaria, an alternative scene. However, I wouldn't say that there's a band that's very similar to us. Not having an analogue was always important to us. Nowadays you can find anything, so being entirely unique is hard. But I think, at least in Bulgaria, we're still quite unique in what we do.
There are other great bands here doing similar things. The problem is that the audience is still very small. Alternative music is only concentrated in Sofia and 2-3 other big cities. The Bulgarian market is still tiny and it's pretty much impossible to earn enough from underground music. But we know how it is and we don't have any illusions about it. We're trying to change it by involving more people, by introducing them to this type of music. That's our job as musicians. When someone likes one of these bands, it's great for all of us. Involving more people in an alternative scene may be the most important thing you can do as a musician, because that's good for the people, the scene, for everyone who is part of this adventure.
Do you have any upcoming concerts or shows where people can listen to you and see you?
We're now in the process of arranging some concerts for this year. Apart from the electronic sound, we also do acoustic concerts. We love to rearrange our songs, playing them with guitars, ukulele and percussion. We are also doing DJ parties where we perform our own remixes. So, we have different types of concerts that we need to think about, and we're arranging them right now in Bulgaria.
We're also planning to do a European tour, which will involve a couple of countries. Last year we traveled to Germany and received great feedback, made connections and people are expecting us back this year. We're also planning to do a tour of other Balkan countries. People here are often surprised to hear that we're from Bulgaria because we don't sound like it at all. When they hear our songs on the radio, they have no idea that we're Bulgarians. Unfortunately, Bulgarian pop is almost non-existent outside of our borders. There are no stars from Bulgaria and that needs to change because we have so much to offer. Things are already improving, very slowly and the process can often seem cumbersome, but it is getting better and there's a cause for optimism. It looks like it's going to be quite a busy year for us and that's great.